I haven't been on the ball lately. It's already halfway through October, and I have zero costume ideas. Looking through past Halloween photos, I came across one of my former costumes that I loved – Frida Kahlo. I debated putting my own picture up, but my drawn in uni-brown and mustache might scare you.  So here is the real Frida Kahlo.
The next question that usually follows is, Frida who? For today's little history lesson, I thought I'd give you some information on one of the world's most interesting and talented painters (in my opinion).
Frida Kahlo (1907-1954), born and raised near Mexico City, was a Mexican painter married to the famous Diego Rivera. Her life was filled with many sorrows, and her paintings depicted both the physical and mental torment she suffered.
Frida was the third daughter of a Hungarian-Jewish father and a Spanish-Mexican mother. Two of her sisters were half -sister's from her father's previous marriage. She grew up in the midst of the Mexican Revolution, and throughout her life she would face many struggles. At the age of 6, she contracted Polio. Some also speculate she also had spina bifida. Her original passion was not to be a painter, but to work in medicine. Unfortunately, at the age of 18, she was in a bus accident where she suffered from severe injuries including a broken spinal chord, collarbone, ribs, pelvis, and fractures in her right leg. As a result of this accident, her uterus was also damaged, and she would lose the ability to reproduce.  She was not able to accept this until may later years later, and eventually was able to conceive only to miscarry. This pain is reflected in her work Miscarriage in Detroit (1932). Although she would eventually heal form the accident, it's memory caused her much trauma and she would often have relapses of reeling pain from it.
From this accident, though, Frida began her painting career. Confined to a hopsital bed, wearing casts that limited her mobility, Frida began painting to pass the time and to deal with her suffering. Her paintings were heavily influenced by traditional Mexican art and consisted of 2-D images in vibrant and bold colors. She painted  155 paintings, with a about a third of them being dedicated to self-portraits. Her pain, miscarriage, and marital difficulties with Deigo Rivera were often depicted.
She traveled to America in her later life with Diego, and held art exhibitions in New York.  She gained some popularity in the 1940's, but it was not until a revival of the feminist movements in the 1980's did she gain more fame, many years after her death.  She suffered from cancer, and at the age of 47, passed away. Her artwork is full of passion, compelling and gut-wrenching stories, and depicts the many pains of her life. Here are a few more of her paintings for you to enjoy. Also, Salma Hayek starred in a movie about Frida Kahlo titled Frida. Excellent movie set in the style of magic realism.
From top to bottom:
The Little Deer (1946), The Broken Column (1944), Diego in My Thoughts (1943)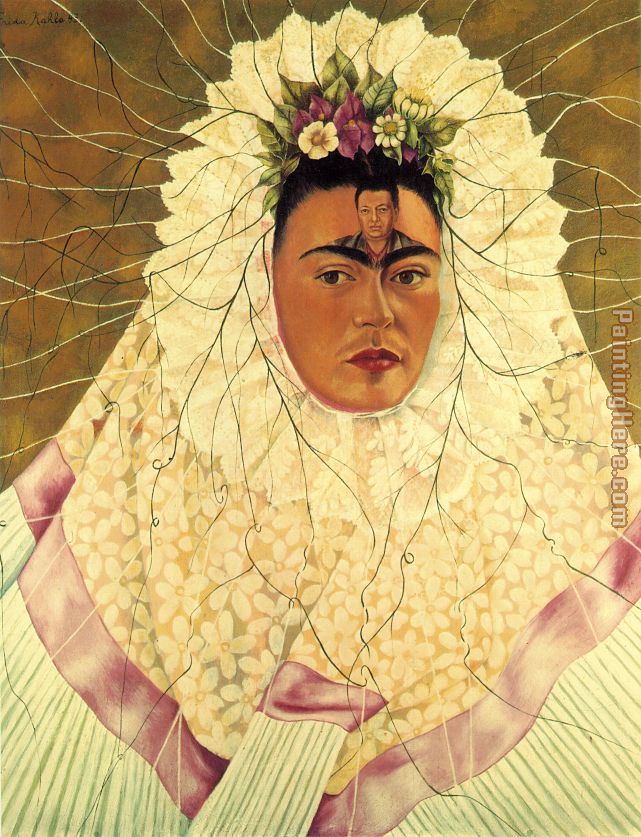 *Information and images compiled from the following sites: http://www.fridakahlo.com/bio.shtml and http://musingforamusement.blogspot.com/2008/10/frida-kahlo.html.